The Tutankhamun Exhibition's innovative, accurate and exciting display techniques has meant that, since its opening in 1987, it has been regularly featured on national and international television. The recreation of Tutankhamun's tomb and its treasures, with Tutankhamun's mummified body, and further treasures displayed in exact facsimile has made The Exhibition a unique and ideal centre for producers. Such is the accuracy, accessibility and splendour of the exhibits that they lend themselves easily for the use in television, film and as a location for fashion and advertising shoots.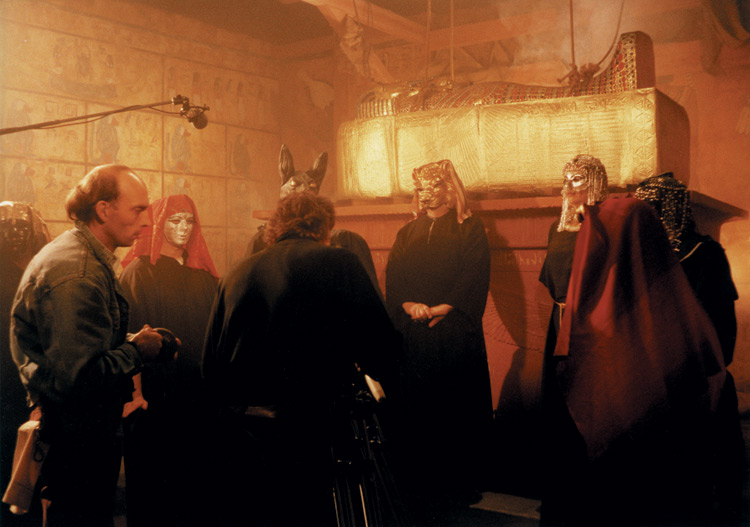 Perhaps the most noteable documentaries in which The Tutankhamun Exhibition has featured are "The Face of Tutankhamun", "Return to Tutankhamun", and "Divine Magic". "The Face of Tutankhamun" was a major series of five films, written and presented by Christopher Frayling, and produced under the highly respected Chronicle banner by Derek Towers & David Wallace.
The series was initially shown on BBC2. "Divine Magic" drew heavily on the resources of The Tutankhamun Exhibition using dramatic interpretations to demonstrate how magic was used in ancient Egypt to protect pharaohs and peasants alike. "Magic of the Mummies" was one episode of the ten part 'Divine Magic' series made for Channel 4 and the Discovery Channnel, USA. Actors were again used in "Return to Tutankhamun", produced by Mike Healey, to further enhance the visual spectacle of The Exhibition's recreation of Tutankhamun's tomb.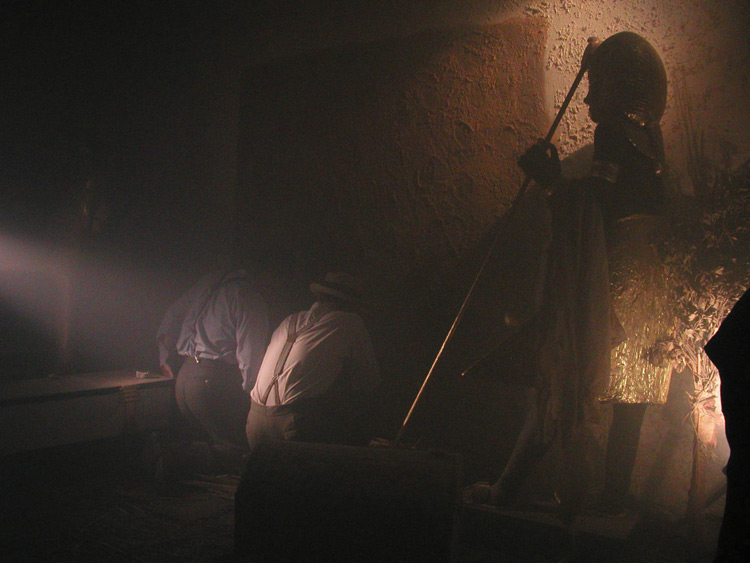 Other credits include "Tutankhamun's Legacy", "Discovering Tutankhamun" and a programme - "Discovering the Tomb of Tutankhamun" - made for German television and the Discovery Channel. The Exhibition has been highlighted in a documentary for Channel 5 and the Discovery Channel entitled "The True Curse of the Mummy" and has also been featured in "Pharaoh Hunter" - the second programme of the 6 part BBC series "Dan Cruickshank's Egypt" that traces the story of the British archaeologist Howard Carter.
The Exhibition's strong links with education and schools has been recognised with it being featured in two major schools series. The Egyptian unit of Landmarks, the school television series covering History and Geography for 9-12 year olds, made by BBC Education drew heavily on the Exhibition's resources. An episode of the Eureka series on Channel 4 Schools - "Maths through History: The Egyptians" was also largely filmed at The Exhibition.
Other aspects of The Exhibition have been explored by Lucinda Lampton in her "Hooray for Today" series and Richard Digance in his "on Tour" series. Phillipa Forrester has filmed a sequence on ancient Egyptian dogs for the BBC's ":Man Meets Dog" series.
To discuss filming opportunities at the Tutankhamun Exhibition or to receive a media pack contact Tim Batty direct on 01305 269741. Email: [email protected]